The Anacostia River
The Anacostia River: Environment, Communities, Justice
When:
April 13, 2018
1:00 pm - 4:00 pm
Where:
NOAA Science Center
1301 East West Highway
Silver Spring, MD 20910
Photo ID required.
The first workshop will introduce participants to the Anacostia River Case Study through an initial reading assignment prior to the workshop. At the workshop itself, participants will engage in activities designed to elucidate team-building, interpretation of policy, understanding of the political decision-making process, writing and communication. Participants will read and share their understanding of the assigned papers with a focus on identifying
the key environmental issues involved,
existing policy, and
key stakeholder groups along with their respective positions.
Future workshops will determine possibilities for alliances and conflict and examine and evaluate possible strategies for achieving issue resolution.
Who Should Attend
Undergraduate and Graduate Students interested in environmental justice and ecology-related careers across all sectors and all disciplines. EcologyPlus is a diversity mentoring program. Minorities are strongly encouraged to apply.
Host:
Laura Oremland, Acting NOAA Citizen Science Coordinator, Office of Science and Technology
Keynote Speaker
Welcome from NOAA Fisheries scientists
Felipe Arzayus
Felipe Arzayus is the team lead for the NOAA Fisheries Office of Science & Technology planning and formulation group where he has led the funding of several science initiatives, from inception to execution, and is directly responsible for the development of annual budget narratives and the coordination of responses to science program queries from NOAA, the Department of Commerce and the U.S. Congress. Felipe has served as acting deputy director of the Alaska Fisheries Science Center Auke Bay Laboratory in Juneau; as interim director of the NOAA Ocean Acidification Program and as Division Chief to the Fisheries Monitoring & Research Division at the Northeast Fisheries Science Center. Most recently, Felipe served as acting Deputy Director to the NMFS Office of Science & Technology. Felipe has a masters degree in Marine Science from the College of William & Mary where his thesis focused on fishery population genetics and dual bachelors of science degrees in Biology and Aeronautical Studies from the University of North Dakota at Grand Forks.
Mridula Srinivasan
Mridula Srinivasan completed her Ph.D. in Wildlife and Fisheries Sciences from Texas A & M University, investigating predation risk effects from killer whales and sharks on the behavioral ecology of dusky dolphins off Kaikoura, New Zealand, using an individual-based model.Previously, she completed a Masters in Environmental Management from Florida Tech and a Masters in Zoology majoring in Molecular Biology, from University of Delhi, India. Mridula is broadly interested in cetacean behavioral ecology, bycatch analysis, predator-prey interactions and predation risk effects. She is particularly interested in the mechanistic understanding of predation risk effects in cetaceans and exploring the influence of climate variability on marine mammal and seabird demographics and spatial distribution. She is actively involved in international training and capacity building in marine mammal education, research, and stranding response, especially in India. She is currently, Chief, Protected Species Science Branch at NOAA's National Marine Fisheries Service, Office of Science and Technology. Here, she oversees a program to conduct and support R&D in protected species (marine mammals, corals, sea turtles, and protected fish) science. She holds a joint appointment as a Visiting Research Scientist at Earth System Science Interdisciplinary Center (ESSIC), University of Maryland, College Park. She is passionate about ocean literacy and mentoring the next generation of marine scientists.
Preparatory Reading
Please bring your digital device that can access the readings at the workshop or bring a printout of the articles you have read.
Then please post your questions and comments on the readings you selected on the Google doc sent to you before coming to the workshop.
Contact
This email address is being protected from spambots. You need JavaScript enabled to view it.
if you did not receive the link to Google doc.
Must Read
Choose two additional readings: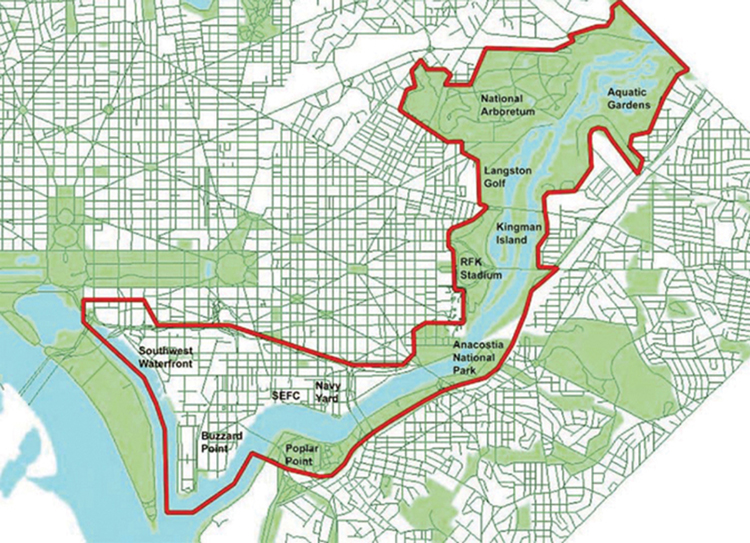 2004 ASLA Professional Awards winner. Anacostia Waterfront Initiative Boundary: the Anacostia RiverParks Target Area is 1650 acres or 60% of the overall AWI planning area. Research, analysis, and recommendations developed for the Anacostia RiverParks Target Area Plan and Riverwalk Design Guidelines apply to all target (study) areas of the Anacostia Waterfront Initiative. (Photo: District of Columbia Office of Planning (DCOP). For more award winning images of the Anacostia River, please visit https://www.asla.org/awards/2004/04winners/entry617.html.
About the Series
EcologyPlus will offer a series of Skills Workshops that will utilize a case study based format to enhance participant understanding of the sills needed for ecological and environmental careers. Centered on environmental issues in the Anacostia River, participants will be exposed to skills valued by employers in a range of fields, including academic institutions; non-profit organizations; federal, state and local agencies, and businesses. Specific skills to be covered will include a variety of "soft" and "hard" skills like project management, data management, writing, communication, fundraising, collaborative skills, stakeholder and citizen engagement, team-building, customer service, political organization and outreach, networking, financial analysis and planning, and negotiation.